ARSINOL TRANSPaRENT
Transparent wood preservative for priming or basic treatment
Arsinol Transparent is a wood preservative, which can be used both for priming (no. 0170) and for end treatment of woodwork, where the structure of the wood is required to be visible. 
The product is also available in a pigmented version, that enhances and keeps the original glow of the wood. The pigments leaves an effective shield against the dangerous UV effects from the sun. Arsinol Transperent contains active ingredients, which prevents the attack of fungus and algae on the surface.

Arsinol Opaque
Don't drip - excellent opacity
Arsinol Opaque is a fully covering wood preservative with a special unique gelé viscosity. This viscosity ensures that the paint won't drip during application. The gelish paint is very easy to apply onto the wood and the paint leaves an even layer. Arsinol Opaque has added color pigments with great color stability and excellent opacity. Arsinol Opaque contains linseed oil and added active materials, which prevents fungus and algae on the surface.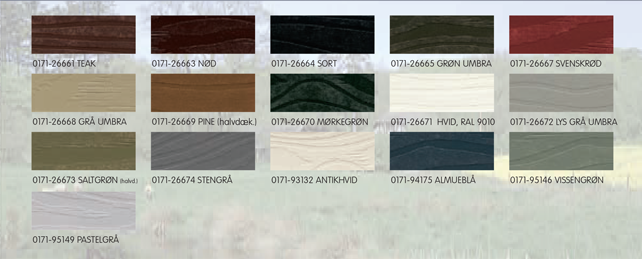 Arsinol extra
Added protection and opaCity
Arsinol Extra is a full covering wood preservative with extra high solid content. The solid content is the material, that stays in the wood when the paint has dried. Traditional wood preservatives, contains 30-45% solid content. Arsinol Extra contains 75% solid content: You are getting a lot more protection for your money, when choosing Arsinol Extra.
Arsinol Extra contains active materials, which prevents fungus and algae on the surface. We have developed Arsinol Extra on basis of sunfloweroil.
Arsinol Extra contains less solvents and more solid content, than traditional wood preservatives.

Arsinol Wood oil
Arsinol Woodoil is a plant oil based maintenance- and protective oil for hardwood garden furnitures and decking.
The wood species Larch, Ceder, Teak and Mahogany is - together with other exotic wood species like Nyatoh, Merbau and Meranti - becoming very popular.
If you wish to retain the original color of the wood, it is necessary to maintain the wood with a pigmented oil.
Arsinol Woodoil penetrates into the wood without leaving a layer on the surface. The oil contains both fade resistant pigments, which protects against UV rays from the sun, and active materials, which prevents fungus and algea on the surface.